SHIBUMI ARRIVES NASSAU ON CHRISTMAS MORNING
We crossed the Gulfstream on Christmas Eve Day and sailed all night. It was a wonderful crossing. We crossed with two other sailboats, "Dark and Stormy" with Don and Mary aboard and "Brass Dragon" with Steve and Linda aboard. Shibumi performed flawlessly. Jill and I took turns at the helm while the other caught a few winks of sleep. We crossed the Great Bahamas Bank at night followed by a beautiful nearly full moon that reflected along with the stars in calm crystal clear waters. Hollywood could not have created a more perfect setting.
We waited in Nassau for the wind to die down before we continuing south across the banks to the Exumas. Dark and Stormy and Brass Dragon left a day before we did, braving winds a bit stronger then Jill and I cared to tackle. Both Don and Steve are experienced sailors so wind was no big thing for them. Howeverf they later reported that conditions were a bit rougher than they had wanted.
New Year's morning, early morning (1:30 a.m.), we went to Junkanoo. Junkanoo is quite a celebration in Nassau and around the islands. The participants, called Rushers, train for nine months to compete in the marathon parade of floats and costumes they weigh up to 200 pounds. The parade went from a little after 2 a.m. until after 9 o'clock in the morning. We have never been to Carnival or Junkanoo so we were excited about getting to see this one...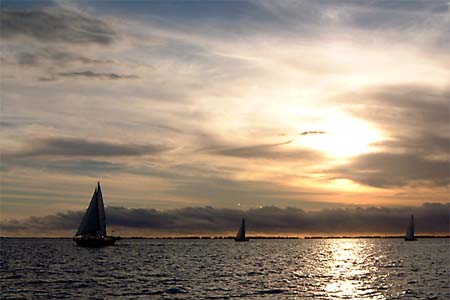 Crossing from Florida
to the Bahamas